Highlights
Visit Santa Cruz's Charles Darwin's research center
Walk Santiago's moonscape-like volcanic formations
Red sandy beach & wildlife encounters at Rabida island
Bartolome's Pinnacle Rock and snorkel with penguins
Witness Genovesa's largest variety of seabirds
click map to expand (not to scale)
Summary
Baltra
Island
|
Airport (GPS)
|
Santa Cruz
Island
|
Bachas Beach
Santiago
Island
|
Buccaneer's Cove
|
Egas Port
Rabida
Island
|
Bartolome
Island
|
Pinnacle Rock
Genovesa
Island
|
Prince Phillip's Steps
|
Darwin Bay
Santa Cruz
Island
|
El Chato Tortoise Reserve
|
Baltra
Island
|
Airport (GPS)
Full Itinerary
Baltra
Island
|
Airport (GPS)
|
Santa Cruz
Island
|
Bachas Beach
Welcome upon arrival to the Galapagos Island's Baltra Airport and transfer to the ship.
Santa Cruz Island, the central hub of the Galapagos, offers a diverse blend of ecosystems. It's home to the Charles Darwin Research Station, where conservation efforts for the iconic giant tortoises take place. High-land areas feature lush vegetation, while its coastline showcases a variety of marine life, including sea turtles and sharks.
Bachas Beach is a picturesque coastal gem in the Galapagos archipelago. With its soft white sands and crystal-clear waters, it provides an inviting haven for visitors. The area's unique history is evident in the remnants of WWII barges that rest along the shoreline. Flamingos frequent the brackish lagoon, creating a striking contrast against the volcanic landscape. Visitors can stroll along the beach, observe marine iguanas, and enjoy excellent snorkeling opportunities. Bachas Beach offers a serene setting where natural beauty and historical elements merge, making it an enriching destination for exploration and relaxation.
activities
:
Snorkel, Swim, Walk, Zodiac
Santiago
Island
|
Buccaneer's Cove
|
Egas Port
Santiago Island, a significant part of the Galapagos archipelago, captivates with its stark volcanic landscapes and diverse ecosystems. The island embodies the Galapagos' geological wonders and showcases the coexistence of terrestrial and marine life in an environment of striking contrasts and unparalleled natural beauty.
Buccaneer's Cove holds an air of historical intrigue and natural beauty. The sheltered bay once provided refuge to pirates and whalers, and its pristine waters and volcanic formations remain a testament to its past. Visitors can kayak along its tranquil shores, marvel at the rich marine life through snorkeling, and witness the impressive geological formations. The cove's tranquil ambiance, historical significance, and breathtaking surroundings make it a unique and captivating destination for those exploring the diverse wonders of the Galapagos Islands.
Egas Port offers a fascinating blend of volcanic landscapes and rich biodiversity. This site features a rugged coastline and lava formations, creating an otherworldly atmosphere. Visitors can explore the unique marine environment through snorkeling and swimming, encountering sea lions, marine iguanas, and various fish species. The volcanic terrain is home to unique vegetation, and the chance to witness the hunting behavior of Galapagos hawks adds to the intrigue.
activities
:
Snorkel, Walk, Zodiac
meals
:
Breakfast, Lunch, Dinner
Rabida
Island
|
Bartolome
Island
|
Pinnacle Rock
Rabida Island display distinct red sands and an array of unique wildlife. The striking contrast between the crimson shoreline and the turquoise waters creates a captivating visual appeal. The island's terrain encompasses both arid landscapes and lush vegetation, providing habitats for a diverse range of species. Visitors can encounter sea lions, marine iguanas, and various bird species during coastal walks and snorkeling activities. The lagoon at the island's center teems with birdlife, including flamingos. The island's vibrant colors, combined with its ecological significance, make it an engaging destination for exploration and discovery.
Bartolome Island, is a volcanic islet with unique and breathtaking landscape. The iconic Pinnacle Rock, an ancient volcanic formation, stands as a prominent landmark against the surrounding azure waters. The island offers panoramic vistas from its summit, accessible by a wooden staircase. The distinct terrain showcases volcanic formations, including spatter cones and tuff formations. The beaches welcome sea lions and snorkelers to encounter marine life, including Galapagos penguins and white-tipped reef sharks.
activities
:
Kayak, Snorkel, Swim, Walk, Zodiac
meals
:
Breakfast, Lunch, Dinner
Genovesa
Island
|
Prince Phillip's Steps
|
Darwin Bay
Genovesa Island, also known as "Bird Island," is a haven for avian enthusiasts. This remote volcanic formation hosts an array of bird species in impressive quantities. The island's natural amphitheater provides an opportunity to observe red-footed boobies, Nazca boobies, and swallow-tailed gulls in their natural habitat. The unique topography, with its steep cliffs and diverse vegetation, offers a dramatic backdrop to these remarkable avian displays. As one of the northernmost islands in the Galapagos, Genovesa's ecological isolation contributes to the preservation of its extraordinary bird populations and distinctive ecosystem.
Prince Philip's Steps is an awe-inspiring natural spectacle. Ascending these steep steps unveils an avian paradise where red-footed boobies and Nazca boobies nest in the island's cliffs, and the elusive short-eared owls make their appearances during the day. The journey through this unique landscape immerses visitors in an untouched world, as they walk among the bird colonies, absorb the intricate ecosystem, and capture unparalleled vistas of the island's rugged shoreline.
Darwin Bay is a remarkable testament to nature's grandeur. As visitors step ashore onto the soft sandy beach, they are immediately immersed in a symphony of birdlife. Red-footed boobies, great frigate-birds, and swallow-tailed gulls soar overhead, while sea lions and marine iguanas share the shore. A leisurely stroll along the trails unveils a wealth of wonders, from mangroves to tidal pools, each hosting unique marine life. This secluded paradise offers snorkeling encounters with sharks, rays, and colorful fish, providing a glimpse into the underwater world that complements the island's awe-inspiring avian spectacle.
activities
:
Kayak, Snorkel, Swim, Walk, Zodiac
meals
:
Breakfast, Lunch, Dinner
Santa Cruz
Island
|
El Chato Tortoise Reserve
|
Baltra
Island
|
Airport (GPS)
El Chato Tortoise Reserve is a sanctuary of serenity on Santa Cruz Island. Nestled within the lush highlands, it offers a chance to encounter the iconic Galapagos giant tortoises in their natural habitat. Visitors can walk through the reserve's trails, observing these ancient reptiles as they graze, wallow in mud baths, or amble through the forest. The verdant landscape also hosts vibrant birdlife and endemic plants. Exploring the reserve provides an opportunity to learn about conservation efforts and the importance of protecting these magnificent creatures, offering an unforgettable connection to the Galapagos' ecological heritage.
After a heartfelt farewell from the ship's captain and crew, we will make our way to Baltra's airport, the final stop before our flight to the mainland. If time permits, you can extend your adventure to Ecuador's unique destinations or even Peru's Machu Picchu. Our team will be glad to recommend extension alternatives before or after your Galapagos experience.
end of the itinerary
Important: Daily activities description subject to change
Pricing Details
Rates shown are per person based on standard double room or cabin occupancy.
Prices in US$ and valid through December 31, 2023
Single Supplement add-on from 70% of price and up.
Credit card payments subject to 3% processing fee.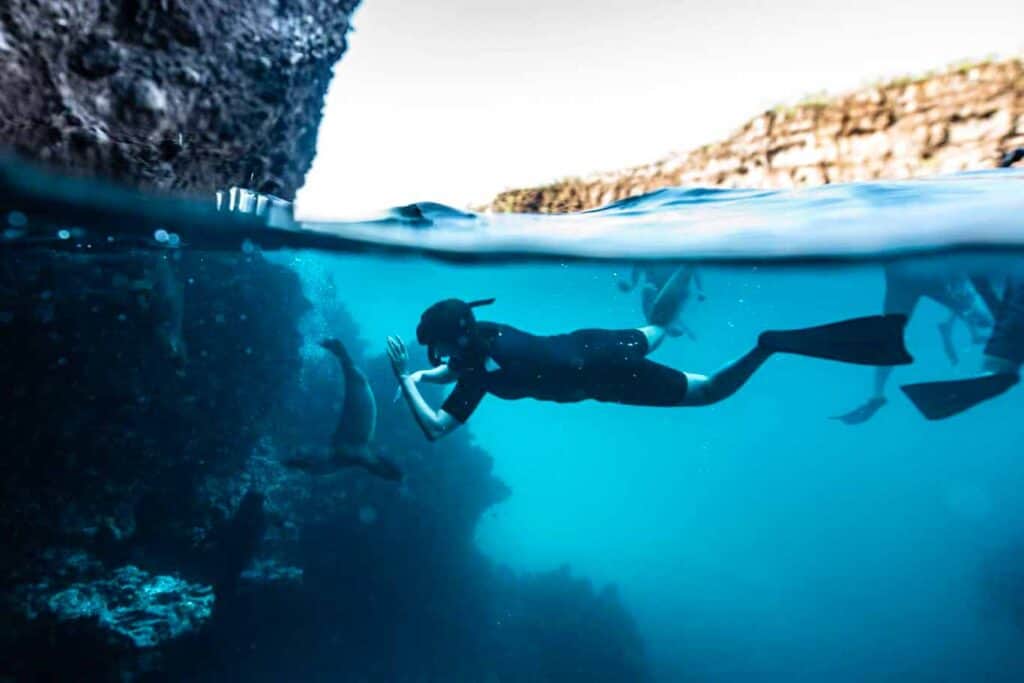 What is Included
Hotels as shown or similar
Airport transfers as shown
Professional bilingual guides
Excursions as part of a group
Additional Budget Considerations
Quito or Guayaquil to Galapagos roundtrip flights (est. $500)
Galapagos park fee and Tourist Card ($120)