Highlights
Over 30 excursions to choose from
Explore the Atacama Desert region
Several horseback riding and cycling itineraries
Breathtaking hikes through amazing landscapes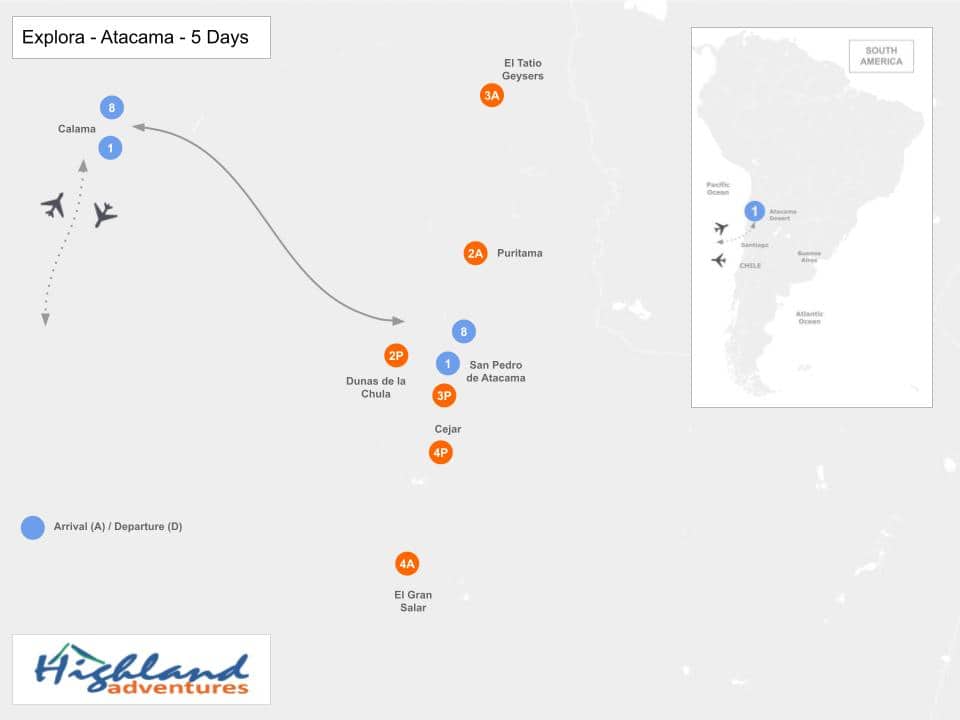 click map to expand (not to scale)
Summary
Calama
|
Airport (CJC)
|
Atacama Desert
|
Explora Hotel
Atacama Desert
|
Puritama
|
Dunas de la Chula
Atacama Desert
|
Tatio Geycers
|
Astronomy
Atacama Desert
|
El Gran Salar
|
Cejar
Atacama Desert
|
Explora Hotel
|
Calama
|
Airport (CJC)
Full Itinerary
Calama
|
Airport (CJC)
|
Atacama Desert
|
Explora Hotel
Flights: Flight should arrive at least an hour before scheduled transfers from Calama Airport to Explora Hotel: 12 Noon, 2 PM, 4 PM and 6 PM. Private transfer available for an additional cost.
Upon exiting the Calama airport, we will embark on a journey through one of the most arresting landscapes in Chile as we head towards the Explora hotel in San Pedro de Atacama. The route, which we will traverse, offers an evolving tapestry of stunning geological formations, expansive salt flats, and the iconic Licancabur volcano which looms in the distance, a sentinel in the desert landscape. The drive will be a vibrant prelude to our stay, as we anticipate the unique explorations that await, with the road unveiling the raw beauty of the Atacama Desert, igniting a spirit of adventure and wonder in us.
On our first evening at Explora, the atmosphere will be one of eager anticipation. After settling into our luxurious rooms, we will meet with the activities leader who will present an array of adventure options available during our stay.
Excursions: The hotel operates on an all-inclusive basis, providing you with a choice of over 30 full or half-day excursions. These range from leisurely walks to challenging treks and horseback rides, catering to various fitness levels. Each evening presents an opportunity for you to handpick their next day's adventure. Seasoned guides are on hand to offer insights on the optimal excursions based on prevailing weather conditions and your desired adventure intensity. While the activities highlighted below serve as recommendations, remember that an array of alternative experiences awaits you throughout your stay.
Atacama Desert
|
Puritama
|
Dunas de la Chula
Puritama Hike
Activity Level 2 (Moderate)
We will commence our journey with a van ride to the starting point at Guatín, from where we will undertake a steadily ascending walk. Spanning a duration of approximately thirty minutes, our pathway will be adorned with towering cacti guiding us to the vicinity of the Puritama River creek. Subsequently, a descent will facilitate a walk alongside the tranquil river, ensconced by imposing rock walls and flourishing vegetation, portraying nature's tapestry in its most authentic form. The culmination of our expedition will be marked with our arrival at the Puritama Hot Springs, allocating ample time for relaxation and rejuvenation, basking in the natural warmth as a rewarding finale to a rich exploration.
Dunas Horseback Ride
Activity Level 1 (Easier)
Horseback ride to the eminent Salt Mountain Range, initiating our journey by crossing the serene San Pedro River. As we traverse the undulating sand dunes of Dunas de la Chula, we will be presented with panoramic vistas of the grand Andes Mountain Range and the picturesque oasis that lies nestled amidst it. Our exploration will further lead us through a dry riverbed, a natural path etched amidst the landscape, fostering a deeper connection to the region's geology. This discerning journey will come full circle as we steer back towards Explora, with the expansive pampa serving as our guiding landscape, encapsulating the multifaceted beauty that is characteristic of this region.
meals
:
Breakfast, Lunch, Dinner
Atacama Desert
|
Tatio Geycers
|
Astronomy
Visit Tatio Geycers
Activity Level 1 (Easier)
Journey by van to the renowned Tatio Geysers, providing an splendid opportunity to witness a significant portion of the Andean Plateau fauna; a vibrant community hosting creatures such as vicuñas, flamingos, and foxes, amongst others. Upon reaching our destination, we will traverse the reserve on foot, immersing ourselves in the pulsating energies of the land that resonate with the majestic backdrop of the Andes Mountain Range. The venture will grants us a visual feast of steam gracefully ascending from the hot water springs, a testimony to the vibrant geological activities beneath. Following our exploration, we will return by van, carrying with us a rich tapestry of visual and sensory experiences acquired from this awe-inspiring geological marvel.
Astronomy Experience
During your stay at Explora, you will have the unparalleled opportunity to delve deep into the mysteries of the cosmos through our exclusive astronomy experience, conducted under one of the world's most pristine skies. Initiating with a briefing on fundamental concepts under the open sky, we will facilitate an enriching session where you will learn about orientation, astronomical distances, and the influence of celestial bodies on local culture. Following this, we will transition to our well-equipped observatory to marvel at celestial objects in both our solar system and the expansive deep space. This offering is available almost daily; however, we recommend that you reserve your session promptly upon check-in at the lodge reception, given the limited availability. Each traveler is entitled to one session per stay, with a possibility of a second session based on availability.
meals
:
Breakfast, Lunch, Dinner
Atacama Desert
|
El Gran Salar
|
Cejar
Gran Salar Exploration
Activity Level 1 (Easier)
Travel by van to the southern vicinity of San Pedro de Atacama, we will reach Toconao, a locale steeped in heritage. Our itinerary will encompass a leisurely walk to the traditional village square, followed by an enlightening passage through a fertile expanse of vegetable gardens, offering a glimpse into the rich agricultural practices of the region. Subsequently, we will transfer to the Chaxa Lagoon situated within the confines of the Los Flamencos National Reserve. Here, we will be greeted with the opportunity to engage in prolific bird watching, bearing witness to a rich avian diversity amidst the unique landscapes of the Atacama Salt Flat. This journey promises both serene and educational encounters, resonating with the vivid natural and cultural tapestries of the region.
Laguna Cejar Bicycle Adventure
Activity Level 1 (Easier)
Leaving from Explora by bicycle, we will traverse through ancient Atacameñan ayllus, the historic social and agricultural communities that echo a rich heritage. Our journey will take us into the northern fringes of the Atacama salt flat, steering us towards the iconic Laguna Cejar. Here, amidst the breathtaking backdrop of the pristine lagoon, we will have the unique opportunity to immerse ourselves in the refreshing waters of the lagoon, a perfect moment of harmony with nature. This experience promises not just a physical journey, but a deep connection to the region's rich cultural and natural landscapes.
meals
:
Breakfast, Lunch, Dinner
Atacama Desert
|
Explora Hotel
|
Calama
|
Airport (CJC)
As we depart from the Explora hotel to head towards Calama airport, we will witness once again the vast expanses of the Atacama desert. The journey will provide us a final opportunity to immerse ourselves in the breathtaking scenery that characterizes this region. We will pass by the solemn beauty of the Licancabur volcano, a constant companion in the Atacama landscape, its grandeur offering a silent farewell. The desert, with its hues ranging from rich browns to soft golds, will unfurl like a living tapestry, a testament to the adventures had and the memories forged during our stay. The anticipation of departure will blend with a quiet reflection as we carry the tranquil spirit of San Pedro de Atacama with us.
Flights: Flight should depart at least two hours after scheduled transfers arrival to Calama airport from Explora Hotel: 9:30 AM, 11:30 AM and 1:30 PM. Private transfer available for an additional cost.
end of the itinerary
Important: Daily activities description subject to change
Pricing Details
Rates shown are per person based on standard double room or cabin occupancy.
Prices in US$ and valid through December 31, 2023
Single Supplement add-on from 70% of price and up.
Credit card payments subject to 3% processing fee.
What is Included
Hotels as shown or similar
Airport transfers as shown
Professional bilingual guides
Excursions as part of a group
Additional Budget Considerations