Highlights
See all 3 species of boobies at San Cristobal
Snorkel at Española's Gardner Bay along unique marine life
Observe magestic flamingos at Floreana Island
Visit Santa Cruz's Charles Darwin's research center
Bartolome's Pinnacle Rock and snorkel with penguins
Chinese Hat unique conical shape and lava formations
South Plaza's white sandy beachers & ocean views
North Seymour's largest colonies of Bue-Footed Boody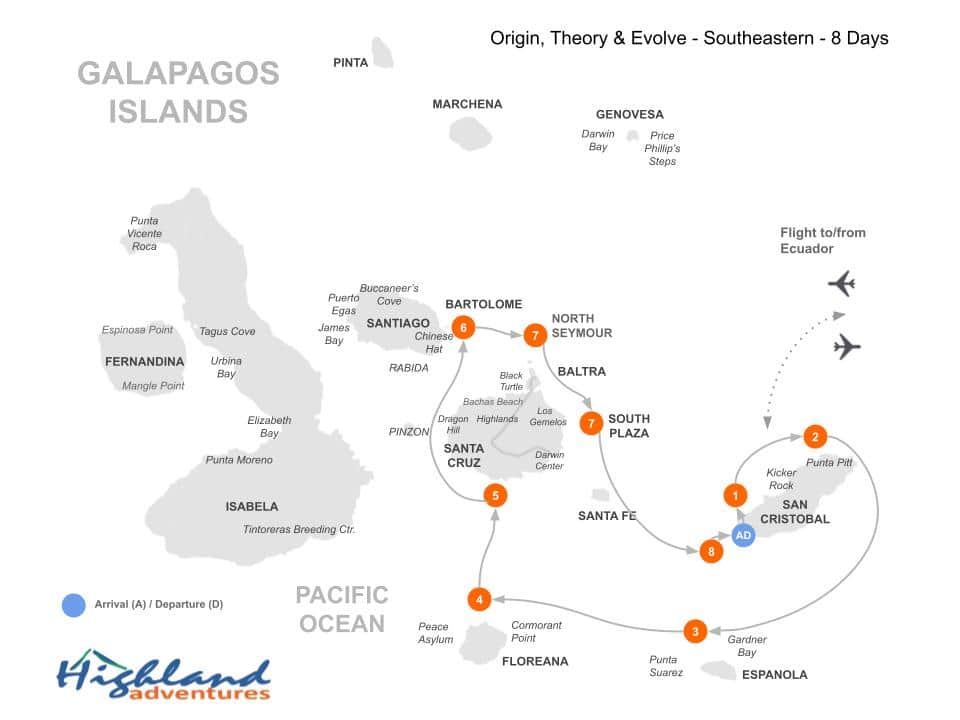 click map to expand (not to scale)
Summary
San Cristobal
Island
|
Airport (SCY)
|
El Junco Lagoon
San Cristobal
Island
|
Witch Hill
|
Punta Pitt
Española
Island
|
Punta Suarez
|
Gardner Bay & Gardner Islet
Floreana
Island
|
Cormorant Point & Devil's Crown
|
Post Office Bay & Baroness Viewing Point
Santa Cruz
Island
|
Highlands
|
Fausto Llerena Breeding Ctr
Bartolome
Island
|
Chinese Hat
Islet
South Plaza
Island
|
N. Seymour
Island
San Cristobal
Island
|
Gianni Arismendy Interpretation Center
|
Airport (SCY)
Full Itinerary
San Cristobal
Island
|
Airport (SCY)
|
El Junco Lagoon
Welcome upon arrival to the Galapagos Island's San Cristobal Airport and transfer to the ship.
San Cristóbal Island, a cornerstone of the Galápagos archipelago, showcases captivating landscapes and unique biodiversity. Its diverse habitats, from arid zones to lush highlands, house a variety of iconic species, such as giant tortoises, frigate-birds, and blue-footed boobies. The island's historic significance resonates through sites like Cerro Tijeretas, where Darwin first stepped ashore in the Galápagos. The island offers opportunities for snorkeling, diving, and exploring the vibrant capital, Puerto Baquerizo Moreno. Discover its pristine beaches, stunning viewpoints, and the Galápagos National Park Interpretation Center, providing insights into the archipelago's natural and human history.
El Junco Lagoon stands as a noteworthy ecological site within the Galápagos, presenting a unique combination of natural beauty and biological significance. Positioned at an elevation of approximately 2,300 feet, the lagoon is a freshwater body, a rarity in the otherwise arid landscape of the Galápagos Islands. Spanning roughly 270,000 square feet, El Junco serves as a critical habitat for a variety of bird species, including frigate-birds and pintails. Its unique microclimate and flora also attract the interest of ecologists and environmental scientists.
San Cristobal
Island
|
Witch Hill
|
Punta Pitt
Witch Hill, or "Cerro Brujo" as it's known locally, is a renowned site for its captivating natural beauty and ecological significance. The hill itself is an eroded tuff cone, offering insights into the island's volcanic origins. At its base, pristine white sandy beaches stretch out, flanked by crystal-clear waters rich in marine life. The surrounding area serves as a habitat for various species, including blue-footed boobies and frigate-birds. Moreover, its coastal lagoon is a sanctuary for migratory birds.
Punta Pitt, a striking promontory on San Cristóbal, is renowned for its unique features and diverse wildlife. Its rust-hued cliffs, formed by ancient lava flows, provide a dramatic backdrop to the rich ecosystem. This site is the only place where all three species of boobies - blue-footed, red-footed, and Nazca - nest together. The trail leading to the viewpoint allows visitors to witness these impressive avian displays, as well as the vibrant hues of marine iguanas and sea lions that thrive in its surroundings.
activities
:
Kayak, Snorkel, Swim, Walk, Zodiac
meals
:
Breakfast, Lunch, Dinner
Española
Island
|
Punta Suarez
|
Gardner Bay & Gardner Islet
Española Island, the oldest of the Galápagos, exudes raw beauty and unique wildlife. Its untamed landscapes feature towering cliffs, pounding surf, and pristine beaches. Home to the world's only waved albatross colony, the island offers an astonishing display of these magnificent birds engaging in elaborate courtship dances. The endemic Hood mockingbird and Española lava lizard are equally captivating. Gardner Bay boasts a powdery white beach frequented by sea lions and marine iguanas. Punta Suarez offers dramatic blowholes and nesting seabirds. Española's isolation has nurtured a distinctive environment, making it a vital haven for endemic species and a must-see for nature enthusiasts.
Punta Suarez is a captivating natural spectacle. This rocky point showcases the island's rugged charm with its towering cliffs and tumultuous waves crashing against the shore. The area hosts the world's only waved albatross colony, where these magnificent birds engage in intricate mating rituals. Visitors witness blue-footed boobies, Nazca boobies, and swallow-tailed gulls nesting on the cliffs. The dramatic blowholes create a stunning water display, while the endemic Española marine iguanas add to the island's unique allure.
Gardner Bay offers a pristine sandy beach embraced by turquoise waters. This tranquil haven is a hub of marine life, making it ideal for snorkeling with playful sea lions, colorful reef fish, and graceful sea turtles. The beach serves as a nesting site for green sea turtles, and the shoreline is dotted with curious Galapagos sea lions. Visitors often encounter endemic mockingbirds and lava lizards. The striking combination of white sands, crystal-clear waters, and abundant wildlife showcases the Galapagos' unique charm, making Gardner Bay a serene and enchanting destination.
Gardner Islet is a significant site for both marine ecology and wildlife observation. Known for its white sandy beaches and crystal-clear waters, the islet provides an idyllic setting for an array of marine life, including sea lions and colorful reef fish. The underwater world around Gardner Islet is also a popular spot for snorkeling and diving, revealing intricate coral formations and the occasional sighting of larger marine species like manta rays. On land, the islet is frequented by various bird species, adding to its ecological richness.
activities
:
Kayak, Snorkel, Walk, Zodiac
meals
:
Breakfast, Lunch, Dinner
Floreana
Island
|
Cormorant Point & Devil's Crown
|
Post Office Bay & Baroness Viewing Point
Floreana Island stands out for its intriguing history, including stories of pirates and settlers, as well as the famous "Post Office Bay." Its diverse landscapes and captivating beaches make it a unique destination in the Galapagos.
Cormorant Point encompasses diverse natural wonders and intriguing history. The area offers two contrasting beaches - one with volcanic olivine crystals that shimmer in the sunlight, and the other adorned with fine white sand, a result of coral erosion. In between lies a hyper-saline lagoon, attracting flamingoes, pintails, stilts, and other wading birds. Visitors can explore the lagoon and continue on a trail to Four Beach, where sea turtles can be spotted riding the waves. Nearby is the islet of Champion, renowned for exceptional snorkeling opportunities, including interactions with sea lions, schools of colorful fish, and the chance to encounter Galapagos penguins.
Devil's Crown is a submerged volcanic crater that serves as one of the region's premier snorkeling and diving locations. This natural formation consists of jagged, rocky spires that breach the ocean's surface, resembling a crown. Below the waterline, the site is a hotspot of marine biodiversity, teeming with a vibrant array of coral, fish, and other marine species such as sea turtles and sharks. The geological complexity of the area enhances water circulation and nutrient distribution, creating an ideal environment for marine life.
Post Office Bay holds historical significance as a unique post office system established by whalers in the 18th century. Today, it's a symbolic site where visitors can participate in the tradition by leaving postcards and picking up mail destined for their region, continuing the legacy of communication. This picturesque bay with its turquoise waters and white sandy beach also offers opportunities for swimming and snorkeling. Immerse yourself in the island's history while enjoying its natural beauty, making this site a captivating blend of cultural heritage and coastal exploration in the Galapagos.
Baroness Viewing Point provides a breathtaking panorama of the surrounding landscapes. Named after the self-proclaimed Baroness Eloise Wehrborn de Wagner-Bosquet, who once resided on the island, this vantage point offers a glimpse into the area's history and unique ecosystems. Visitors can take in the pristine beaches, crystal-clear waters, and volcanic formations, while learning about the intriguing stories associated with the island's past.
activities
:
Snorkel, Walk, Zodiac
meals
:
Breakfast, Lunch, Dinner
Santa Cruz
Island
|
Highlands
|
Fausto Llerena Breeding Ctr
Santa Cruz Island, the central hub of the Galapagos, offers a diverse blend of ecosystems. It's home to the Charles Darwin Research Station, where conservation efforts for the iconic giant tortoises take place. High-land areas feature lush vegetation, while its coastline showcases a variety of marine life, including sea turtles and sharks.
Santa Cruz' Highlands in Galapagos offer a unique natural landscape. Lush vegetation, giant tortoises roaming freely, and volcanic formations define this area. Explore lava tunnels, witness tortoise habitats, and discover the endemic flora and fauna.
The Fausto Llerena Breeding Center, established in 2004, is a vital conservation facility on Santa Cruz Island in the Galápagos. Dedicated to the preservation of native species, it plays a crucial role in breeding and rearing Galápagos giant tortoises before releasing them into the wild. Visitors can observe various tortoise species at different life stages, gain insights into ongoing conservation efforts, and learn about the center's role in ensuring the survival of these iconic creatures and maintaining the delicate ecological balance of the Galápagos Islands.
meals
:
Breakfast, Lunch, Dinner
Bartolome
Island
|
Chinese Hat
Islet
Bartolome Island, is a volcanic islet with unique and breathtaking landscape. The iconic Pinnacle Rock, an ancient volcanic formation, stands as a prominent landmark against the surrounding azure waters. The island offers panoramic vistas from its summit, accessible by a wooden staircase. The distinct terrain showcases volcanic formations, including spatter cones and tuff formations. The beaches welcome sea lions and snorkelers to encounter marine life, including Galapagos penguins and white-tipped reef sharks.
Chinese Hat Islet is a small volcanic cone off Santiago Island's southeastern coast. Its iconic conical shape and stark lava formations provide insight into the archipelago's geological history. The surroundings offers opportunities for snorkeling and dinghy rides in the calm waters of the crescent-shaped cove. Sea lions bask on the white sandy beach, while marine iguanas and lava lizards inhabit the rocky areas. As you explore the islet's interior, witness unique Galapagos wildlife and the distinctive pahoehoe lava formations.
activities
:
Snorkel, Swim, Walk, Zodiac
meals
:
Breakfast, Lunch, Dinner
South Plaza
Island
|
N. Seymour
Island
South Plaza Island, a masterpiece of evolution. Its dramatic cliffs, sculpted by wind and waves, create a stunning backdrop for a vibrant ecosystem. Land iguanas, unique to South Plaza, bask in the sun amidst carpets of vibrant succulents. The island's exceptional birdlife includes swallow-tailed gulls, red-billed tropicbirds, and the iconic blue-footed boobies engaging in their intricate courtship dance. Sea lions laze on the rocky shores, while the striking contrast between the turquoise waters and the island's reddish-brown terrain creates a breathtaking visual.
North Seymour Island, a geological wonder, boasts a captivating blend of wildlife and landscapes. Its flat terrain is sculpted by ancient lava flows, providing a canvas for vibrant displays of flora and fauna. A haven for bird enthusiasts, the island features colonies of blue-footed boobies, frigate-birds, and swallow-tailed gulls engaged in their intricate mating rituals. Land iguanas roam the arid landscape, adding to the diverse ecological tapestry. As you traverse the island's trails, the unique behaviors and interactions of its inhabitants unfold, making North Seymour a captivating destination for ecotourism and nature exploration.
activities
:
Snorkel, Walk, Zodiac
meals
:
Breakfast, Lunch, Dinner
San Cristobal
Island
|
Gianni Arismendy Interpretation Center
|
Airport (SCY)
The Gianni Arismendy Interpretation Center serves as an invaluable educational resource for both tourists and researchers. The center offers comprehensive insights into the unique ecology, geology, and history of the Galápagos Islands, through a series of well-curated exhibits and interactive displays. Operated by the Galápagos National Park, the facility aims to promote responsible tourism and conservation awareness. The center also delves into the complex human history of the islands, addressing the challenges and opportunities that come with human interaction in such a delicate ecosystem.
Afterwards and a heartfelt farewell from the ship's captain and crew, we will make our way to the airpot for your flight to Quito or Guayaquil. From there you will be able to fly home or continue on one of our trip extensions.
end of the itinerary
Important: Daily activities description subject to change
Pricing Details
Rates shown are per person based on standard double room or cabin occupancy.
Prices in US$ and valid through December 31, 2023
Single Supplement add-on from 70% of price and up.
Credit card payments subject to 3% processing fee.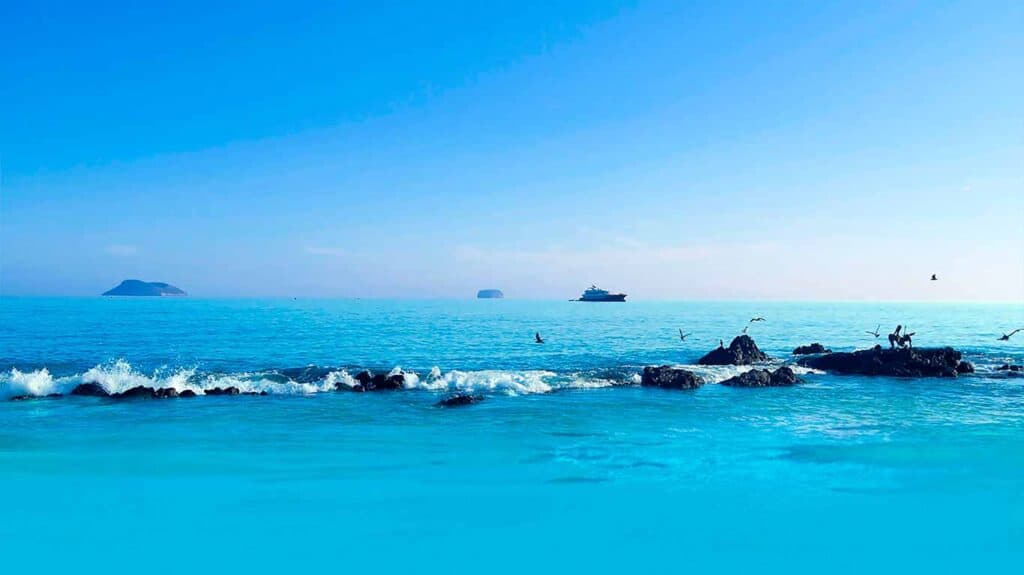 What is Included
Hotels as shown or similar
Airport transfers as shown
Professional bilingual guides
Excursions as part of a group
Additional Budget Considerations
Quito or Guayaquil to Galapagos roundtrip flights (est. $500)
Galapagos park fee and Tourist Card ($120)