Highlights
See all 3 species of boobies at San Cristobal
Witness Genovesa's largest variety of seabirds
Visit Santa Cruz's Charles Darwin's research center
Swim alongside turtles and seahorses at Isabela Island
Access Fernandina pristine ecosystem at Punta Espinoza
Red sandy beach & wildlife encounters at Rabida island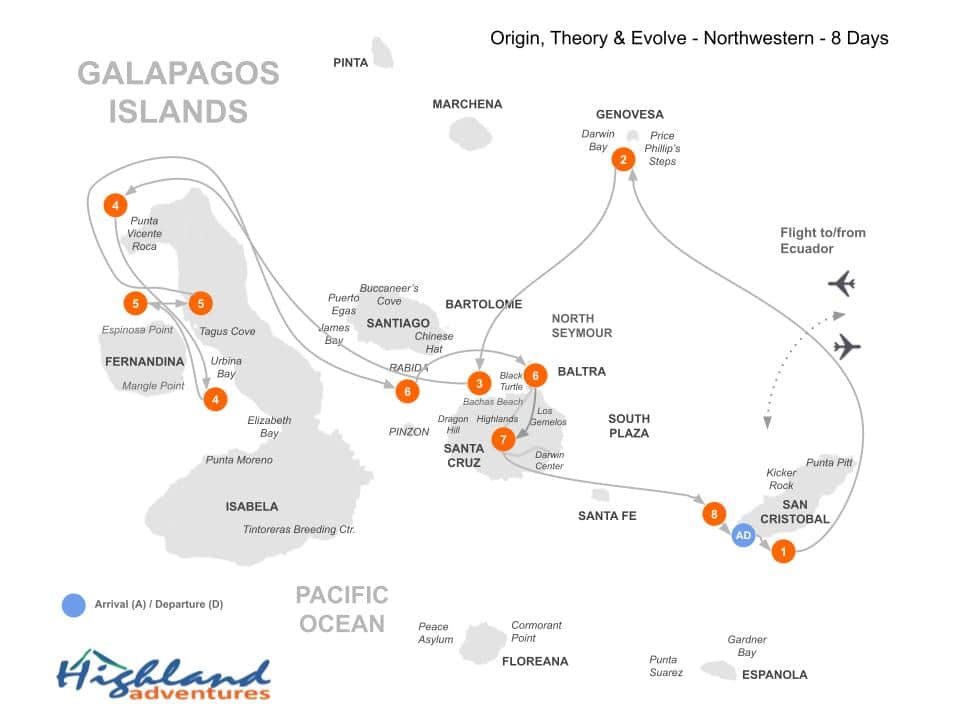 click map to expand (not to scale)
Summary
San Cristobal
Island
|
Airport (SCY)
|
Galapaguera
Genovesa
Island
|
Darwin Bay
|
Prince Phillip's Steps
Santa Cruz
Island
|
Bachas Beach
|
Dragon Hill
Isabela
Island
|
Punta Vicente Roca
|
Urbina Bay
Fernandina
Island
|
Espinosa Point
|
Isabela
Island
|
Tagus Cove
Rabida
Island
|
Santa Cruz
Island
|
Black Turtle Cove
Santa Cruz
Island
|
Highlands
|
Fausto Llerena Breeding Ctr
San Cristobal
Island
|
Gianni Arismendy Interpretation Center
|
Airport (SCY)
Full Itinerary
San Cristobal
Island
|
Airport (SCY)
|
Galapaguera
Welcome upon arrival to the Galapagos Island's San Cristobal Airport and transfer to the ship.
San Cristóbal Island, a cornerstone of the Galápagos archipelago, showcases captivating landscapes and unique biodiversity. Its diverse habitats, from arid zones to lush highlands, house a variety of iconic species, such as giant tortoises, frigate-birds, and blue-footed boobies. The island's historic significance resonates through sites like Cerro Tijeretas, where Darwin first stepped ashore in the Galápagos. The island offers opportunities for snorkeling, diving, and exploring the vibrant capital, Puerto Baquerizo Moreno. Discover its pristine beaches, stunning viewpoints, and the Galápagos National Park Interpretation Center, providing insights into the archipelago's natural and human history.
The Galapagera is a conservation and research center with a focus on the protection and breeding of the iconic Galápagos giant tortoises. The facility plays a crucial role in sustaining this endangered species. Visitors can observe these ancient creatures in semi-natural habitats, offering an educational experience that underlines the importance of conservation efforts. Moreover, the center provides invaluable data for ecological research, contributing to the broader understanding of the islands' unique biodiversity.
Genovesa
Island
|
Darwin Bay
|
Prince Phillip's Steps
Genovesa Island, also known as "Bird Island," is a haven for avian enthusiasts. This remote volcanic formation hosts an array of bird species in impressive quantities. The island's natural amphitheater provides an opportunity to observe red-footed boobies, Nazca boobies, and swallow-tailed gulls in their natural habitat. The unique topography, with its steep cliffs and diverse vegetation, offers a dramatic backdrop to these remarkable avian displays. As one of the northernmost islands in the Galapagos, Genovesa's ecological isolation contributes to the preservation of its extraordinary bird populations and distinctive ecosystem.
Darwin Bay is a remarkable testament to nature's grandeur. As visitors step ashore onto the soft sandy beach, they are immediately immersed in a symphony of birdlife. Red-footed boobies, great frigate-birds, and swallow-tailed gulls soar overhead, while sea lions and marine iguanas share the shore. A leisurely stroll along the trails unveils a wealth of wonders, from mangroves to tidal pools, each hosting unique marine life. This secluded paradise offers snorkeling encounters with sharks, rays, and colorful fish, providing a glimpse into the underwater world that complements the island's awe-inspiring avian spectacle.
Prince Philip's Steps is an awe-inspiring natural spectacle. Ascending these steep steps unveils an avian paradise where red-footed boobies and Nazca boobies nest in the island's cliffs, and the elusive short-eared owls make their appearances during the day. The journey through this unique landscape immerses visitors in an untouched world, as they walk among the bird colonies, absorb the intricate ecosystem, and capture unparalleled vistas of the island's rugged shoreline.
activities
:
Kayak, Snorkel, Walk, Zodiac
meals
:
Breakfast, Lunch, Dinner
Santa Cruz
Island
|
Bachas Beach
|
Dragon Hill
Bachas Beach is a picturesque coastal gem in the Galapagos archipelago. With its soft white sands and crystal-clear waters, it provides an inviting haven for visitors. The area's unique history is evident in the remnants of WWII barges that rest along the shoreline. Flamingos frequent the brackish lagoon, creating a striking contrast against the volcanic landscape. Visitors can stroll along the beach, observe marine iguanas, and enjoy excellent snorkeling opportunities. Bachas Beach offers a serene setting where natural beauty and historical elements merge, making it an enriching destination for exploration and relaxation.
Dragon Hill is a captivating destination featuring a brackish lagoon where migratory birds and flamingos gather. Venture along a trail through a forest of Opuntia cacti and enjoy stunning vistas of the coastline. Encounter the iconic Galapagos giant tortoises in their natural habitat and learn about conservation efforts. An excellent location for birdwatching and nature enthusiasts.
activities
:
Snorkel, Walk, Zodiac
meals
:
Breakfast, Lunch, Dinner
Isabela
Island
|
Punta Vicente Roca
|
Urbina Bay
Isabela Island, the largest in the archipelago, boasts captivating landscapes. Its Sierra Negra volcano offers the world's second-largest caldera, while the marine life-rich waters off Punta Vicente Roca are ideal for snorkeling. Unique flora and fauna, such as flightless cormorants and Galapagos penguins, define its ecological significance.
Punta Vicente Roca is a captivating destination within the Galapagos archipelago. Known for its dramatic landscapes and rich marine life, this site offers a unique blend of experiences. Towering cliffs adorned with seabird colonies create a stunning backdrop for exploring the underwater world. Snorkelers and divers can encounter a diverse array of marine species, including sea turtles, penguins, and various fish species. The striking geological formations and the opportunity to witness the famed Galapagos flightless cormorants in their natural habitat make Punta Vicente Roca a must-visit location for those seeking both terrestrial and aquatic wonders.
Urbina Bay is an exceptional showcase of geological marvels and evolutionary wonders. Resulting from a dramatic uplift in 1954, large sections of the seabed emerged, revealing marine fossils, coral formations, and strata previously submerged. This area offers a tangible glimpse into the Earth's dynamic forces at play. Additionally, the bay's diverse habitats are home to an array of species, including land iguanas, giant tortoises, and a plethora of birdlife.
activities
:
Snorkel, Zodiac
meals
:
Breakfast, Lunch, Dinner
Fernandina
Island
|
Espinosa Point
|
Isabela
Island
|
Tagus Cove
Fernandina Island, the youngest and most pristine, showcases volcanic terrain and minimal human impact. It teems with marine iguanas, Galapagos penguins, and flightless cormorants, while lava formations tell the island's geological story. This island provides a glimpse into the natural evolution of the Galapagos ecosystem.
Espinosa Point boasts remarkable volcanic landscapes and a breeding ground for marine iguanas. Visitors can witness unique wildlife interactions and geological wonders, while observing flightless cormorants, Galapagos penguins, and lava herons along lava fields and mangrove forests.
Tagus Cove has long been a refuge for sea vessels, dating back to the 1800s when whalers inscribed their ship names onto its cliffs. Today, the cove is renowned more for its natural attributes than its maritime history. Dominated by steep cliffs and offering panoramic views of the adjacent Darwin Lake, an uplifted saltwater lagoon, Tagus Cove presents a rich tapestry of volcanic landscapes. The surrounding environment is teeming with wildlife, from flightless cormorants to Galápagos penguins.
meals
:
Breakfast, Lunch, Dinner
Rabida
Island
|
Santa Cruz
Island
|
Black Turtle Cove
Rabida Island display distinct red sands and an array of unique wildlife. The striking contrast between the crimson shoreline and the turquoise waters creates a captivating visual appeal. The island's terrain encompasses both arid landscapes and lush vegetation, providing habitats for a diverse range of species. Visitors can encounter sea lions, marine iguanas, and various bird species during coastal walks and snorkeling activities. The lagoon at the island's center teems with birdlife, including flamingos. The island's vibrant colors, combined with its ecological significance, make it an engaging destination for exploration and discovery.
Black Turtle Cove, located on the northern coast of Santa Cruz Island, is a complex of tidal mangrove lagoons that serve as a safe haven for marine life. Accessible only by boat, this tranquil area is frequented by sea turtles, rays, and juvenile sharks, which use the calm, nutrient-rich waters as a nursery and feeding ground. The mangroves themselves play a critical role in nutrient cycling and shoreline stabilization.
activities
:
Kayak, Snorkel, Walk, Zodiac
meals
:
Breakfast, Lunch, Dinner
Santa Cruz
Island
|
Highlands
|
Fausto Llerena Breeding Ctr
Santa Cruz' Highlands in Galapagos offer a unique natural landscape. Lush vegetation, giant tortoises roaming freely, and volcanic formations define this area. Explore lava tunnels, witness tortoise habitats, and discover the endemic flora and fauna.
The Fausto Llerena Breeding Center, established in 2004, is a vital conservation facility on Santa Cruz Island in the Galápagos. Dedicated to the preservation of native species, it plays a crucial role in breeding and rearing Galápagos giant tortoises before releasing them into the wild. Visitors can observe various tortoise species at different life stages, gain insights into ongoing conservation efforts, and learn about the center's role in ensuring the survival of these iconic creatures and maintaining the delicate ecological balance of the Galápagos Islands.
meals
:
Breakfast, Lunch, Dinner
San Cristobal
Island
|
Gianni Arismendy Interpretation Center
|
Airport (SCY)
The Gianni Arismendy Interpretation Center serves as an invaluable educational resource for both tourists and researchers. The center offers comprehensive insights into the unique ecology, geology, and history of the Galápagos Islands, through a series of well-curated exhibits and interactive displays. Operated by the Galápagos National Park, the facility aims to promote responsible tourism and conservation awareness. The center also delves into the complex human history of the islands, addressing the challenges and opportunities that come with human interaction in such a delicate ecosystem.
Afterwards and a heartfelt farewell from the ship's captain and crew, we will make our way to the airpot for your flight to Quito or Guayaquil. From there you will be able to fly home or continue on one of our trip extensions.
end of the itinerary
Important: Daily activities description subject to change
Pricing Details
Rates shown are per person based on standard double room or cabin occupancy.
Prices in US$ and valid through December 31, 2023
Single Supplement add-on from 70% of price and up.
Credit card payments subject to 3% processing fee.
What is Included
Hotels as shown or similar
Airport transfers as shown
Professional bilingual guides
Excursions as part of a group
Additional Budget Considerations
Quito or Guayaquil to Galapagos roundtrip flights (est. $500)
Galapagos park fee and Tourist Card ($120)